with over 34 years of award winning experience in the Benefits Consulting & Financial Services Industry, Mario provides a wealth of knowledge to his clients. Mario is diligent in thoroughly understanding the needs of his clients.
Mario is a " Coach" to each and every one of his clients. His approach is genuine to serving his clients. He has helped hundreds of individuals, families and businesses in creating their own Game Plan. Whether it is reaching their financial goals, reducing insurance costs or providing enhanced benefit package for employers, having the " Coach" on your side could make the difference in you feeling confident that your needs will be met.
As a former Board Member and Vice-Chairman of the New Jersey Better Business Bureau (BBB), Mario operates his business with the highest ethical standards.
Mario enjoys his Christianity and is an active member serving at his church. He believes that he can use his knowledge, experience and humility to serve his clients while honoring God in all that he does.
Mario has shown leadership from his early years as a captain for his HS Football & Swimming Teams. He then went on to Temple University on a full scholarship. Upon graduating Mario was approached by Tempe's Athletic Director Gavin White to interview for the Head Swimming Coach Position. He accepted and became the youngest Head Coach for any Division 1,2 or 3 sports teams.
Later after raising two boys, Anthony and Nick, Mario was active in coaching Gloucester Township Football and Washington Township's youth football programs. After his son Nick graduated from Washington Township HS as a 3 year QB starter, the high school asked Mario to coach QB's. For the love of baseball, Mario also coached a National Ranked Travel Baseball team called the Jersy Devil Rays. One of the graduates of this team is currently playing for the Chicago Cubs, Mark Zagunnis. Several players also went onto excell in collegiate baseball. Mario is known to many of his athletes as Coach Mar to this day.
Mario's son Anthony graduated with his Social Work Degree and employed as a Pyschiatric Counselor. Anthony is currently nationally ranked as a Power Lifting. His most recent competition he Squated 640 lbs., Benched 450 lbs. and Dead-lifted 705 lbs.
Mario's son Nick graduated with his Masters degree, is the career all-time hitting Chanpion for McDaniel College and now is a Federal Law Officer at the Supreme Court in Washington, DC. Nick is an avid crossfit competitor and hopes to go to the Police and fire World Crossfit championships.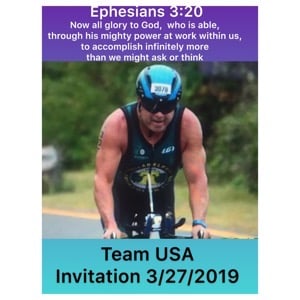 Mario is an acive Triathlete after taking 35 years off from exercising, he is enjoying his journey to better health. He trains daily awakening at 4:15 am to start his devotions and training all completed by 7:00 am. Mario was invited to represent the USA by becoming a member of Team USA for Triathlon events. His speciality is a 1.2 mile swim followed by a 56 mile cycle. Currently he is training for the World Championships to be held in the Netherlands in September, 2020. This will be a 2.4 mile swim and 112 mile bike race totalling and approximate 8 hour event.